Governor DeSantis Issues Executive Order Revising Moratorium and Limiting Eviction Protections
On July 29, Governor DeSantis issued Executive Order 20-180, which provides a limited extension of the original eviction moratorium that was issued in Executive Order 20-94. Executive Order 20-180 included important revisions, which will allow evictions, even cases for nonpayment of rent, to be filed and processed by the courts.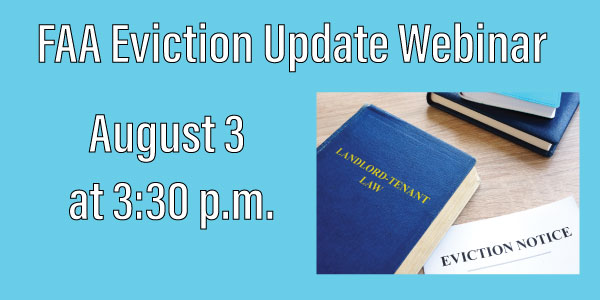 Now that evictions can resume, click here to register for FAA's Eviction Update Webinar on August 3, 2020.
---
ORDER SUMMARY:
The new order merely suspends the "final action at the conclusion of an eviction proceeding" until September 1, 2020 for cases that arise from nonpayment of rent by a tenant who has been adversely affected by the COVID-19 emergency. According to the order, "adversely affected" by the COVlD-19 emergency means a loss of employment, diminished wages or business income, or other monetary loss realized during the Florida State of Emergency and directly impacting the ability of a residential tenant to make rent payments. This new language also clarifies that the judicial system can issue writs of possession for eviction proceedings unrelated to nonpayment of rent.
As you may know, FAA has been in contact with Governor DeSantis' office throughout the COVID-19 crisis to share the apartment industry's concerns regarding the eviction moratorium. FAA recently had the opportunity to meet with the governor's staff to discuss the industry's concerns at length, which included a variety of issues such as residents who are unwilling to work with their housing provider on payment agreements and individuals who are attempting to game the system, simply because they know they cannot be evicted.
While the governor's limited extension is not ideal, FAA is thankful to see that the governor took some of the rental housing industry's feedback into consideration when issuing the latest executive order. FAA is cautiously optimistic that this new order will help address severe delinquencies and afford housing providers needed access to the court and remedies available under the law. Most importantly, it will allow property owners who have exhausted alternatives to begin what will likely be a very lengthy eviction process due to a backlog of cases in the judicial system.