August 2015 E-Newsletter
Date posted
August 1, 2015
What's New in the FAA
FAA Attends BCMHA 'Cruise out of Summer and Sail into Fall' Trade Show
Register Now: This Could Be FAA's Biggest Conference Yet
APAC Campus Challenge is Just Around the Corner
What's New Around the State
What's New Nationally
NAA Industry Insider: Will Over-Income Residents in Public Housing Be Evicted?
NAA Connect — Now Available: Survey Results, Education Session Recordings
---
What's New in the FAA
FAA Attends BCMHA 'Cruise out of Summer and Sail into Fall' Trade Show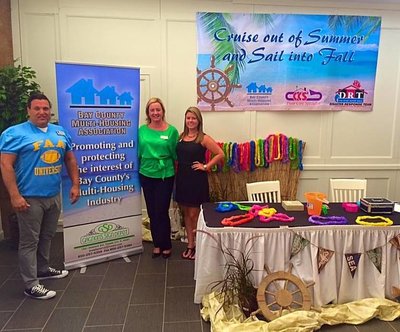 Josh Gold, FAA Executive Vice President, visits the BCMHA registration table with Annika Cline and Danielle Dauphin. Cline is President of BCMHA and Community Manager at Edgewater Crossings. Dauphin is Treasurer of BCMHA and a leasing agent at Edwater Crossings.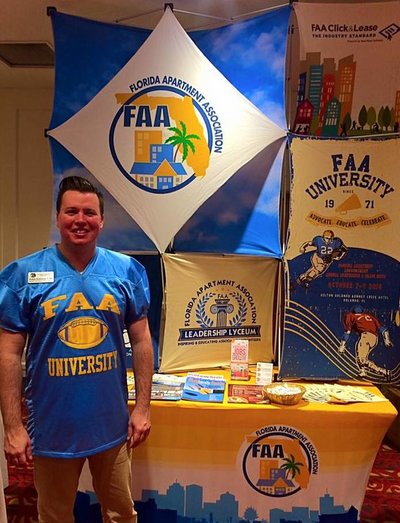 Ralph Robinson, FAA Director of Meetings and Affiliate Relations, staffs the FAA booth at BCMHA's trade show.
Register Now: This Could Be FAA's Biggest Conference Yet
FAA University is promising to be the biggest Annual Conference & Trade Show ever presented by the Florida Apartment Association. How do we know this? Our host hotel has already sold out in record time!
If you haven't yet registered for the conference and booked your room, not to worry: We've arranged accommodations at the nearby Meliá Orlando Suite Hotel at Celebration. Shuttle transportation will be provided to make your conference experience as convenient as possible.
APAC Campus Challenge is Just Around the Corner
Now that the legislative session is over, APAC fundraising is in full swing, and the biggest APAC fundraiser of all time is right around the corner. The APAC Campus Challenge is THE event at which to be seen supporting APAC! Plus, it's a fun and exciting way to participate with your property management team or best clients to benefit APAC.

The APAC Campus challenge is critical to help APAC reach its 2015 goal of $139,000. Thank you to all the management and vendor teams that are participating this year:
Apartment Finder
Camden Property Trust
Carlisle Management Company
Carrol Management
Century Fire Protection
ContraVest
Greystar
Horizon Management Company
JMG Realty
Massey Services
RentPath (Apartment Guide)
WRH Realty Services
Sign up today and be a part of the APAC excitement! New to the Campus Challenge? All are welcome to participate; you can register a team or sign up as an individual. At the event, teams of eight visit customized challenge stations and search for clues, solve puzzles, and complete other fun activities. Each team must visit every station and finish the challenge to compete for the grand prize.

The event is open to all fitness levels and will take place indoors and under air conditioning! All challenge stations are sold out, but sponsor opportunities are still available.
---
What's New Around the State
Market Report
PANHANDLE
Developer opens Tallahassee projects, plans grocery
Three mixed-use projects North American has completed to date — The Deck, The Block and The Axis — represent a total of 377 apartment units (710 beds) and 35,000 square feet of retail being added to the district, where new apartment construction has dramatically altered the neighborhood around Gaines.
NORTHEAST FLORIDA
Esterline Construction to build $15.7 million apartments in Jacksonville
Esterline Construction Inc. of Plant City will build a $15.7 million apartment community in Bartram Park, to include 390 units in 17, three-story buildings.
CENTRAL FLORIDA
Lake Mary to create 'Midtown' for new $200M mixed-use project
The city of Lake Mary is looking to create an area called Midtown, in part, to house a new $200 million mixed-use development planned by Unicorp National Developments Inc. The development would include 300 high-end apartments and 200 single family homes.
Bluerock Residential Marks Its Fourth Investment in Orlando with Acquisition of 252-Unit Arium Palms
Bluerock Residential Growth REIT announced that it has acquired a 252-unit Class A apartment community in Orlando, Florida, known as Arium Palms at World Gateway. The property, which the Company acquired through a joint venture for $37 million, is located in the prestigious Celebration submarket, one of Orlando's most affluent, and minutes from the main entrance to Disney World.
California investor shells out $47.8M for foreclosed Orlando apartments
A lender-owned apartment complex next to the busy Waterford Lakes Town Center in east Orlando sold via Auction.com for $47.8 million to a California investment real estate firm.
GreenPointe Communities Announces Plans for New Condominium Project in Daytona Beach Shores
GreenPointe Communities announced plans for The Aruba Condominium, a new oceanfront development in Daytona Beach Shores. The Aruba will rise 12 stories on South Atlantic Avenue, a half mile south of the Port Orange Causeway in Daytona Beach Shores, a charming community located directly south of Daytona Beach.
Orlando Sentinel campus project draws developer's interest
The impending redevelopment of the Orlando Sentinel's downtown campus apparently has attracted the attention of South Florida real estate firm Stiles Corp. The most recent plan for the multi-phased project featured 746 apartments, 56,000 square feet of retail, 280,000 square feet of office space, a 144-room hotel and 1,820 spaces in structured parking garages on the current Sentinel site.
Stiles also plans to develop a portion of a mixed-use development near Mall at Millenia called Gardens on Millenia.
New apartments in Sanford snag huge sales price
Miami-based Solstice Loop Holdings LLC spent $59 million, or $163,889 per unit, to buy the 360-unit Elan Towne Center apartments at 7951 Solstice Loop on Aug. 1, Seminole County and state records showed.
LandSouth Construction building $32 million apartments in Davenport
LandSouth Construction of Jacksonville Beach has begun building a $32 million luxury apartment community in Davenport, southwest of Orlando.
2 Orlando apartment complexes fetch combined $32.8M
Two older properties — including a lender-owned complex — sold for a combined $32.8 million earlier this month. Investors spent millions on the two properties, the Royal Isles Apartments near east Orlando and the Reserve at Conway near Orlando International Airport, Orange County records showed.
Leesburg complex leveled for Venetian Gardens expansion
Bulldozers took down the Venetian Isles apartment complex on Dixie Avenue, which still had several tenants living in buildings before demolition.
Work starts on new $30M apartments near Disney
Unicorp National Developments Inc. awarded Altamonte Springs-based Roger B. Kennedy Inc. a $30 million contract to build the 258-unit "spa-style" Zen Luxury Living Apartments community adjacent to the Hyatt Regency Grand Cypress near Walt Disney World.
Unicorp sells Windermere apartment complex for big price tag
Unicorp's related Maguire Roberson LLC sold the nearly 2-year-old, 276-unit Casa Mirella apartment complex in Windermere for $50 million, or $181,159 per unit, to Raia FL SPE Hackettstown II LLC, an entity related to Ramsey, N.J.-based Raia Properties Corp., Orange County records showed.
BAY AREA
Signature Place developer sued over sale of Tampa apartment complexes
A California firm has sued two of Joel Cantor's companies, alleging they quashed contracts to sell the complexes, then refused to return $1 million in deposits.
Developers look to old apartments for new homes
Three projects are in the works on the sites of 1950s and 1920s apartments in St. Petersburg. Quattro on Beach Drive and Towns on Fifth on Fifth Avenue, offer homes in the $800,000 and $900,000 range. At the Dunbar, at 400 12th Ave. NE, there are 600-square-foot condos for $149,000 up to 1,340-square-foot condos for $329,000.
Florida Crystals starts building $60 million midrise apartments in Tampa's Channel District
On a block south of E Kennedy Boulevard between 11th and 12th streets, FCI Residential is spending $60 million to replace an unused warehouse that once served the shipping industry with an Art Deco-inspired apartment house teeming with young professionals.
Luxury apartments Altis Grand Central planned for South Tampa
A burgeoning pocket of South Tampa is slated for two luxury apartment buildings with 296 units dubbed Altis Grand Central. They will rise on Grand Central Avenue on an entire block bordered by Magnolia Avenue, Cedar Avenue and Cleveland Avenue. The site is across from the University of Tampa near Mise en Place and the Oxford Exchange restaurants.
More details for apartments planned near South Tampa's Oxford Exchange unveiled
Altman Development Corp., based in Boca Raton, is planning to break ground on Altis Grand Central in spring 2016 and deliver the first units in summer 2017.
Port Tampa Bay's ambitious Channel district real estate plan includes retail, residential and commercial
Port Tampa Bay has unveiled a "vision plan" for its Channel district real estate that would redevelop 45 acres of port-owned land along Channelside Drive and the Ybor Channel, north of the Florida Aquarium into a mix of residential towers and retail and commercial space — a total of 9 million square feet and $1.5 billion in development costs.
New Tampa apartment complex sold for more than 2007 price
An apartment complex in New Tampa has been sold for $49.325 million, above a 2007 peak price of $45 million. ELRH Investments, based in Jupiter, paid $130,489 per apartment for The 378-unit Preserve at Tampa Palms, at 17220 Commerce Park Blvd., according to Hillsborough County property records.
5 game-changing multifamily developments in the works for Tampa
Five of the most recent multifamily developments to emerge could be the most meaningful of this real estate cycle. Plans are in the works that will redefine the waterfront in downtown Tampa and Rocky Point and continue the revitalization of North Hyde Park.
TRI-CITY AREA
Gilbane Building Company Breaks Ground on New Mixed-Use Project in Sarasota
Gilbane Building Company, a global leader in construction services, joined developer Mark Kauffman and Partners, architect Jonathan Parks, and local officials to kick off the construction of Rosemary Square, a mixed-use project located along the Boulevard of Arts. The now vacant tract of land will become a vibrant area supporting the arts and creating a new hip urban lifestyle.
SOUTHWEST FLORIDA
Inland Private Capital Completes Successful Sale of Multifamily Community in Naples
Inland Private Capital Corporation announced the sale of the 146-unit Berkshire Reserve Townhomes located at 3536 Winifred Row Lane in Naples, for a gross sale price of $20,250,000. IPCC, through its subsidiary which serves as asset manager, facilitated the sale of the property on behalf of one of its 1031 investment programs.
SOUTHEAST FLORIDA
Hallandale Beach considers Oasis project: 500 units plus hotel
A massive mixed-use project called the Oasis, with 500 multifamily units plus a hotel, office and retail, has been proposed in Hallandale Beach by Romagnole Investment Properties, managed by Mireya de Iadisernia and Guiseppe Iadisernia in Miami Beach.
Brickell apartment tower nabs $40M construction loan
The Brickell Ten apartment tower obtained a $39.7 million construction loan from Ocean Bank. The Miami-based bank provided the mortgage to Brickell Ten LLC, a joint venture between IB Corp. and Bay Harbor Islands-based Waterstone Capital, which is led by Richard Waserstein. Construction of 155 apartments and 13,400 square feet of retail space is well underway.
Average rentals top $1,200 in Broward, Palm Beach
Average rental apartment rates increased in Broward and Palm Beach counties in the second quarter and may keep rising into next year. The average monthly rent for an apartment in Broward County during the April-June period was $1,215, up 4.2 percent from the same period last year, according to New York-based research firm Reis Inc.
Argentine group plans mixed-use project in North Miami Beach
A group of Argentine investors has just purchased a parcel of land in North Miami Beach, with plans to create a mixed-use development that will include a 30-story apartment building.
Fairfield Residential takes out $265M multi-state mortgage: Rental communities in Florida accounted for 45 percent of loan
San Diego, California-based Fairfield Residential has closed on a $265 million multi-state mortgage on properties including two in Miami-Dade and Broward counties, according to county records.
Chetrit Group paid nearly $94M for 8 South Florida apartments
Chetrit Group purchased eight South Florida apartment complexes for a combined $93.77 million as part of a national portfolio deal. Miami-Dade and Palm Beach county records have revealed the prices of the local properties in the transaction with a combined 1,087 units.
Developer proposes 300 apartments in Boca Raton's Park at Broken Sound
The introduction of residential into the Park at Broken Sound in Boca Raton (formerly the Arvida park of Commerce) has continued at a rapid clip with a seventh proposed multifamily project.
Addison Place Apartments in Boca Raton sold for $34M
A Los Angeles-based company bought the Addison Place Apartments near Boca Raton for $34 million. Addison Place Apartments, an affiliate of Dallas-based Invesco Advisers, sold the 166-unit community to Addison Place Apartments Property Owner, an affiliate of Los Angeles-based JRK Property Holdings.
State seeks development proposals for Sheridan Tri-Rail station
The two parcels that FDOT is issuing an RFP for have been planned for 300,000 square feet of commercial use, 245,000 square feet of office space, a 150-room hotel, and 550 mid-rise units.
Developers of West Palm apartments take out $95M loan
Sandler at Alta Lago, a company affiliated with the Ohio-based Associated Estates Realty Corp., took out the loan on its Vista Lago community at 3130 North Jog Road.
Adler Group buys Miami property approved for 449 apartments
River Tower LLC, a Miami-based company managed by Brian S. Campbell, sold the 1.6-acre site at 230 S.W. 3rd Street for $14.25 million to Lancelot Miami River, an affiliate of Miami-based developer the Adler Group.
J. Milton scores $63.8M loan for SoFla apartments
J. Milton & Associates, a Coral Gables-based development company, just took out a huge $63.8 million loan on two of its apartment buildings in South Florida.
Chetrit Group deal spares eight South Florida apartment buildings from foreclosure
Eight South Florida apartment buildings were released from a foreclosure lawsuit as part of a nationwide acquisition by Chetrit Group. A group of 73 apartment buildings in eight states were hit with foreclosure lawsuits in 2013 as part of Empirian Lexford's $335 million loan with a commercial mortgage-backed securities (CMBS) firm.
West Palm apartment community nears completion
Loftin Place, a rental community in West Palm Beach, has begun pre-leasing as it approaches its December completion date. The development is a collection of 259 rental apartments housed in a mid-rise building at 805 North Olive Avenue.
Mixed-use project near Metrorail to be proposed in Miami's Coconut Grove
A development with apartments, commercial space and possibly office space will be proposed at a site near a Metrorail station and Underline, a 10-mile linear park and urban trail being developed underneath Metrorail that will run from the Miami River to Dadeland South Station.
Jeff Greene's WPB apartment community launches leasing
The Cameron Estates, a 548-unit apartment community in West Palm Beach developed by billionaire Jeff Greene, has begun leasing units on the eve of its opening.
What's New Nationally
Support APAC by Donating Silent Auction Items
FAA's Apartment Political Action Committee (APAC) has already collected silent auction items ranging from fun to useful to luxurious, but we can still use more. Donating items for the auction at our Annual Conference & Trade Show is a great way to show your support for APAC.
Click here for an online form that explains how to donate and offers suggestions for what to donate. If you still have questions, email Courtney Barnard, FAA government affairs director, at courtney@faahq.org.
Legislative Platform Meeting to Be Held October 28
Mark your calendars! The FAA annual legislative platform meeting is being held on October 28 at Apartment Association of Greater Orlando (AAGO) headquarters. The platform meeting is open to all members of FAA and is your opportunity to learn about FAA's advocacy efforts in 2015 and what lies ahead for the multifamily industry in 2016. Platform meeting attendees will be able to learn about APAC, our lobbying and grassroots efforts, and how to become more involved in shaping the political future of our industry.
The platform meeting is the heart of FAA's grassroots efforts; it is your forum to share what legislative priorities concern your business. If you want to have a voice in the upcoming Florida legislative session (which begins in January 2016) you should attend the platform meeting. FAA government affairs director Courtney Barnard and lobbyist Kelly Mallette will share what 2016 may hold for the multifamily industry. They will discuss what bills have been filed that may help or hurt our industry and what you can do to help.
Remember, this is your chance to have a voice in what legislative issues FAA will address in 2016.