FREE MEMBERS ONLY WEBINAR: Understanding the New CDC Guidance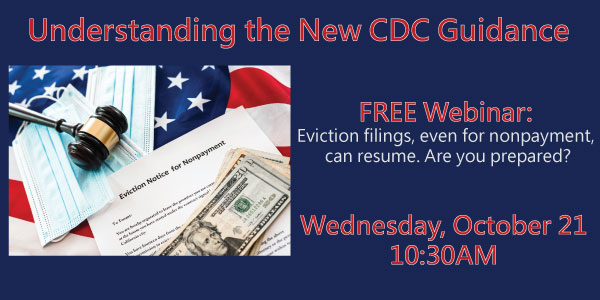 On September 1, the U.S. Centers for Disease Control and Prevention (CDC) ordered a halt to certain evictions only under specific circumstances through December 31, 2020. Although the order has been reported by media as an eviction moratorium, it is NOT really a moratorium. In fact, the CDC issued an FAQ on October 10, which makes it clear that the order is not intended to terminate or suspend the operations of any state or local court. Nor is it intended to prevent landlords from starting eviction proceedings.
Join the Florida Apartment Association and attorneys Harry Heist and Ryan McCain for a FREE members-only webinar on October 21 at 10:30am where you will learn how the CDC order and the recently issued guidance impact you.
During this informative session, you will learn:
- How to successfully file evictions NOW.
- Best practices to keep you in control and out of trouble!