Smoke-Free Multifamily Housing
Smoke-free policies are legal, desirable, enforceable, and good business.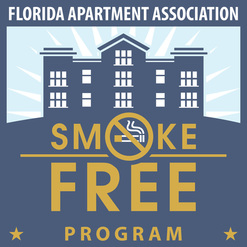 Smoke-free multifamily housing is in demand among Florida's renters. In fact, more than 85 percent of adults in Florida do not smoke, and four out of five of them would prefer to live in smoke-free housing.
The Florida Apartment Association, in partnership with the State Department of Health and the Bureau of Tobacco-Free Florida, offers resources for property owners and managers to adopt smoke-free policies. Learn more via the resources below or click on the Tobacco Free Florida logo to connect with your area's tobacco-free Florida representative.
But that's not all. FAA believes providing a healthy environment for your residents and employees is worth bragging about and offers certification to help your community do just that.
---
---
Resources